Accommodation in Cambridge.
Live on your own terms. For as long as you need. From £1,400 per month.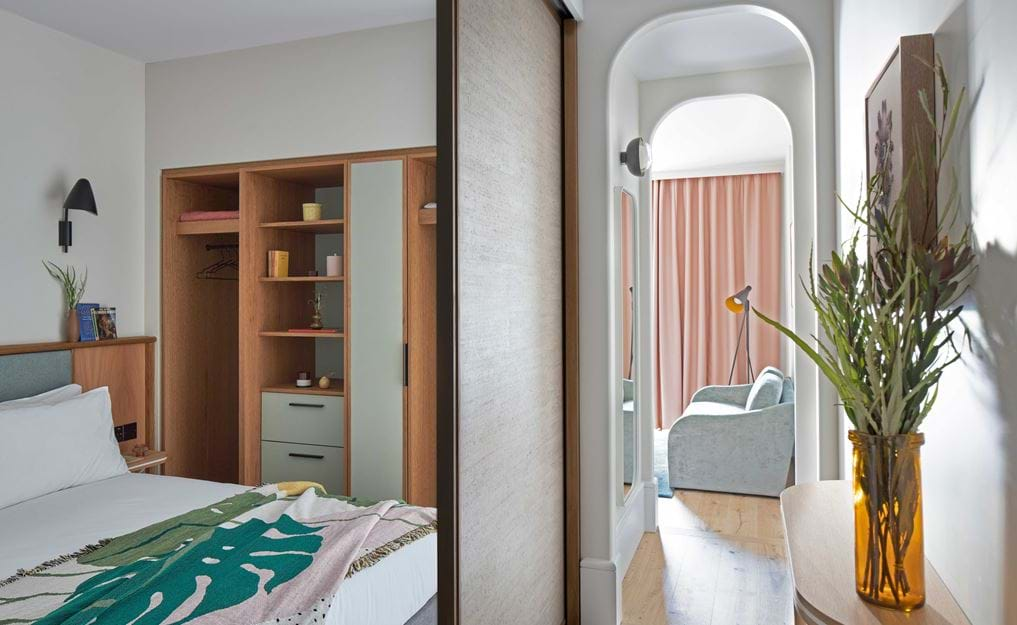 Work. Live. Play.
Live care-free.
In your own space.
Sometimes you need a place to call home, without the headache of lengthy contracts, bills and life admin. This is where we come in. If you're looking for university accommodation for a week, a month or longer: we've got you covered at Turing Locke. Stay with us for as long as you need to: bills, cleaning, linen, Wi-Fi and all those other home comforts included. No strings attached.
Take a virtual tour.
Why live at Locke?
A design-led serviced apartment.
With a fully-fitted kitchen, living space, private, superfast Wi-Fi, and much more. Unlike traditional short-term lets or serviced apartments, you'll also have access to our social spaces - including co-working space and the workout studio.
Round the clock service and security.
What's new? What's different? What's going on in our city? Our 24/7 House Host team will be there if you need help, advice, or the best local tips around. And there'll always be someone to welcome you home at the end of the day.
No contracts or strings attached.
No lengthy contracts. All bills included. Plus weekly cleans, underground parking and a co-working space. Stay for as long as you need with peace of mind if you need to make a quick exit.
Fully equipped kitchens.

With a dining table, high-spec hob, microwave and oven. And – depending on your chosen room – a washer/dryer and dishwasher.

Explore Turing Locke.

Separate living areas.

Eat here, unwind there and go to bed somewhere totally different.

Explore Turing Locke.

Social spaces.

Fancy a change of scenery? Our communal areas – including co-working spaces, workout studio, bar, coffee shop, restaurant and rooftop terrace – are just a few steps away.

Explore Turing Locke.

Why Locke?
We created Locke to give people another way to stay. We call it an aparthotel - where serviced apartment meets boutique hotel. Home meets away. And where you can eat, sleep and unwind, with enough space that you'll never need to invite your boss to awkwardly sit at the end of the bed. But what is an aparthotel?
Find out more.
Convinced? Book a tour.

If you'd like to take a look around, get in contact with our sales team via email at [email protected].
Find us at: Turing Locke, 47 Eddington Avenue, Cambridge, CB3 1SE

Join us on the journey at Turing Locke.

We're currently recruiting for a variety of Cambridge-based roles.
Want to join our ambitious and growing team?