Why aparthotels?
Made to be lived in. Not just slept in.
Who said you can't have a dinner party or a meeting in your hotel room?
We created Locke to give people another way to stay. We call it an aparthotel – where serviced apartment meets boutique hotel. Home meets away. And where you can eat, sleep and unwind, with enough space that you'll never need to invite your boss to awkwardly sit on the end of the bed. But what is an aparthotel? How does it differ from a standard hotel or serviced apartment? And what makes Locke unique?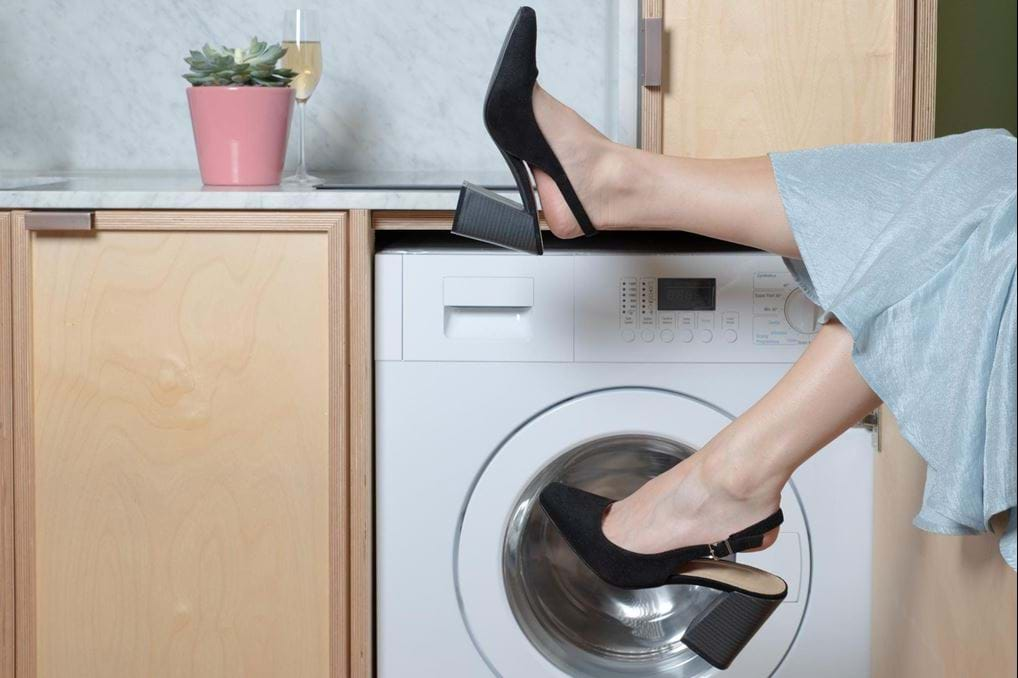 Hotels.
Hotels are great if all you want to do is wake up, go out, then come back to your room and crash into bed. While they often boast on-site restaurants, gyms and round-the-clock service, hotel rooms provide little more than a bed and a shower in a shoebox. But for most of us – people with families, jobs, interests, friends, yoga routines and crime-drama addictions – there's a lot that just doesn't fit with our way of living. When you're away for more than a few nights, you want more space, and something that feels a bit more like home.
Aparthotels.
Aparthotels combine the best bits of a serviced apartment living, with the facilities of a hotel. You'll have your own private apartment with a kitchen and living area, with almost twice the space of a boutique hotel room. But unlike in a serviced apartment, you'll also have access to hotel facilities and services that help make you feel looked after, and your stay special. Like our gyms and yoga classes, cafés, restaurants and cocktail bars and communal work-spaces. Plus a whole team of hosts to look after you from the minute you check in.
Locke goes further.
We're not just a standard aparthotel. Rejecting the notion of the cookie cutter hotel, Locke works with world-renowned architects, designers and the community to create original, inspiring spaces to live in central locations. Each of our properties in London, Edinburgh, Manchester, Dublin and Munich draws on its unique locale, bringing the outside in. And every little detail - from the blinds to the plug sockets to the kitchen utensils – is planned and considered with real people in mind.
They're not just designed for long stays or work trips either. You can stay for a weekend mini-break or a three-week honeymoon. Book our spaces for parties as well as conferences. And bring your family and friends, as well as that awkward colleague. Why stay anywhere else?
We believe life shouldn't stop when you're away from home. So we give you the space – and the facilities – to stay your way.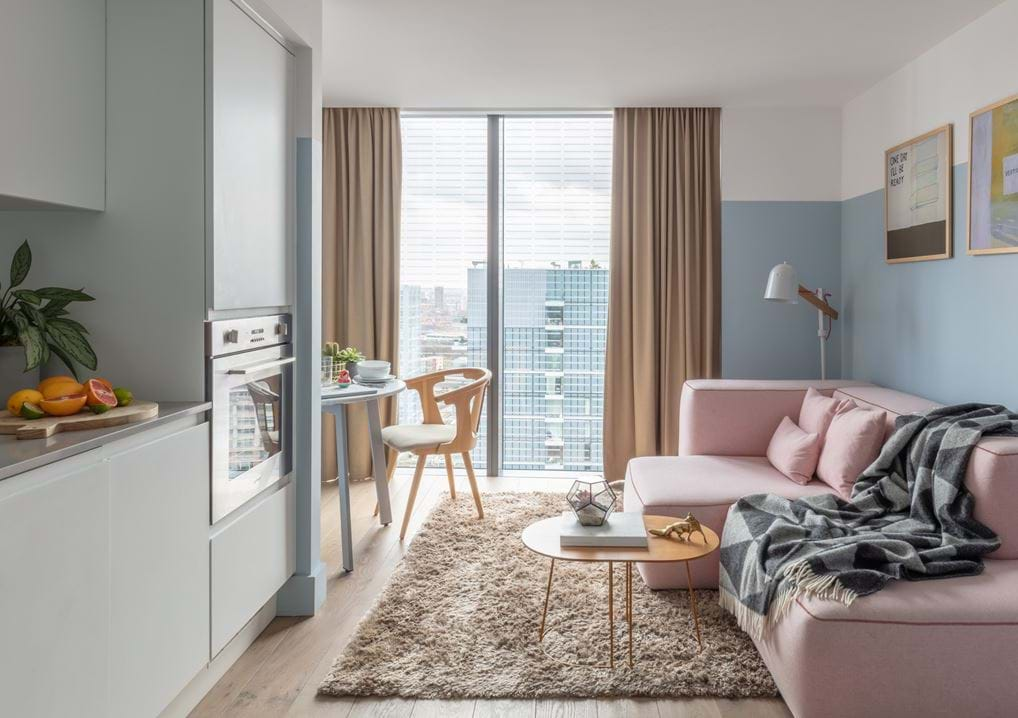 Separate living areas.
Our rooms have separate living, sleeping and cooking areas, so you can eat here, unwind there and go to bed somewhere totally different. (It's what good sleeps are made of, trust us.) Although our suites, on average, are a tad smaller than a corporate serviced apartment, they're a lot bigger than your average hotel room. And they've been carefully designed to feel larger, too.
Fully equipped kitchens.
You'll have a fully equipped kitchen with a dining table, top-of-the-range hob, microwave oven, and designer kitchenware. And – depending on the room you choose – a washer/dryer and dishwasher. We'll let you know the best places to buy fresh, quality ingredients locally, to suit your diet. Then you can whip up a storm (or bake a cake – why not?), and even invite friends or colleagues round for a meal.
Seamless technology.
Every room comes with a Smart TV (including an Apple TV or Chromecast), as well as private, super-fast Wi-Fi. So you can binge-watch your favourite series, connect securely to a VPN, or share your holiday photos and files easily. We also place USB sockets in convenient locations, so you don't have to walk across the room just to charge your phone.
Social spaces.
If you fancy a change of scene without venturing out into the city, our communal areas – including our co-working spaces, gyms, bars, coffee shops and restaurants – are just a few steps away.
It takes more than a big bed and some fancy sheets to get a good night's sleep – especially when you're away from home. So we've designed every detail of your room – from pillows to plugs, curtains to temperature control – to help you unwind, switch off and wake up feeling refreshed.
A temperature to suit you.
All of our apartments come with independent temperature control – some have air conditioning too. So you can make the room the exact temperature you like to sleep in. Then wake up ready for a yoga class or a refreshing rainfall shower in your luxurious bathroom.
Comfy mattresses.
All of our mattresses are of the highest quality, so you can be sure you wake up rested, with no achiness. There's nothing worse than a bad mattress.
Blackout curtains.
Blackout curtains or blinds are included in all Locke studios and suites as standard. We even make sure any appliance lights can be covered when you're ready to sleep, so you won't have to deal with any flashing lights.
Fresh, pressed sheets.
As well as your comfy king-size bed, you'll also have a sofa for lounging on and a dining table for eating or working at. Which means your crisp, pressed bed linen will stay that way until you're ready to get in. No more conference calls with a headboard in the background.
Check your emails at your dining table in the morning. Set yourself up in our co-working lounge, and have your usual coffee brought to your table. Then invite colleagues round to work on a presentation together over dinner in the evening. When you're working away from home, having flexible spaces – as well as seamless, reliable technology – is really important.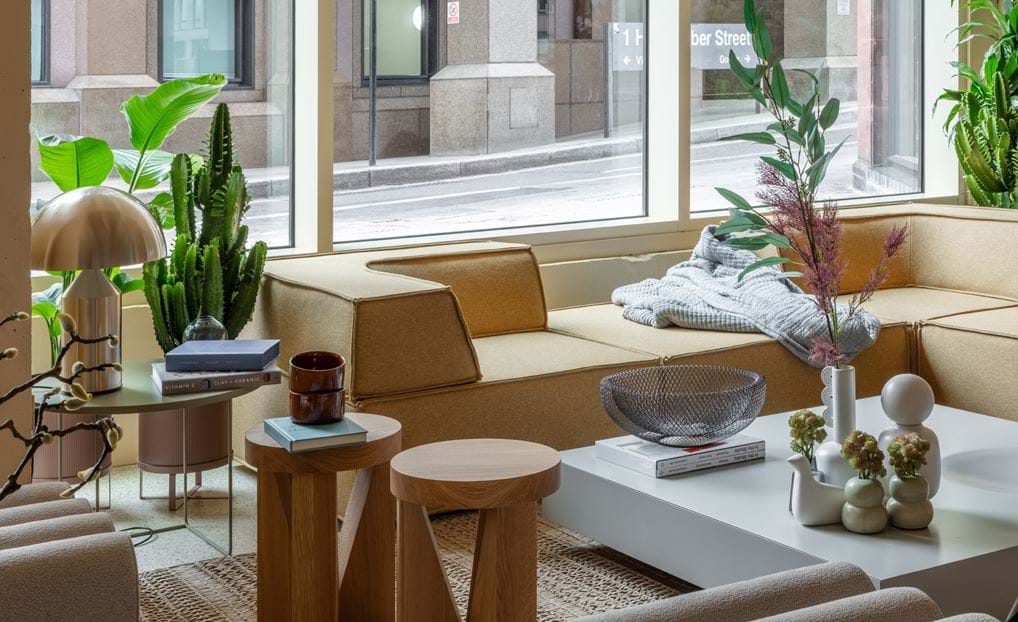 Work privately in your apartment.
If you're working in your room, you'll have a table to sit at, as well as super-fast, private WiFi (100MB speeds), all in your own space. For more intimate meetings and brainstorming sessions with colleagues, our apartments are ideal. With separate areas for sleeping and working, it won't feel awkward either.
Meet others in the co-working space.
In our co-working spaces, you'll have all the seating areas, sockets, Wi-Fi and facilities you need, plus nourishing, delicious food and drinks to keep you going. The opportunity to meet and collaborate with other guests and locals is a bonus too.
Hire a meeting or event space.
Most our locations have meeting rooms you can book, so you can arrange more formal get-togethers for your team without having to leave the building. Or, book out the co-working area or event space for a team gathering or work celebration.