Stay your way | Dog friendly accommodation
Bring your dog to any Locke hotel and make your apartment really feel like home.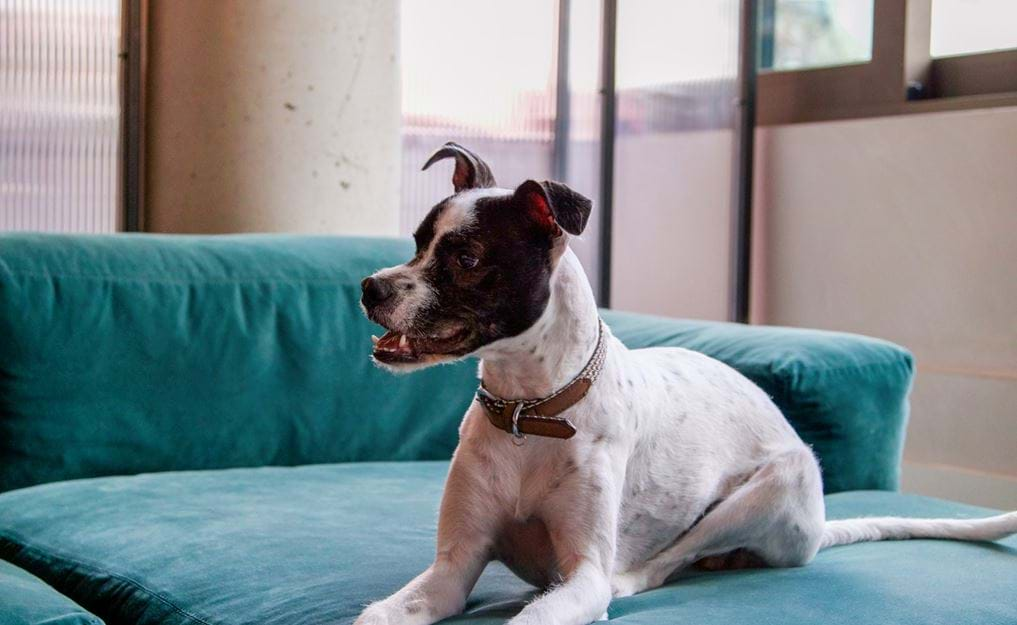 Why should humans have all the fun?
We know that pets are what really make a home, a home. So, all Locke hotels are dog friendly. We welcome one (well-behaved) pooch in each of our spacious apartments. If you're planning on bringing your pooch, please note you must have booked the WOOF package prior to your stay.
There's a one-off £40 fee for pet stays, which includes some lovely doggie treats, a dog bandana and toy, plus a dog bowl and door hanger during your stay. An extra-thorough deep clean on check out is included, too.
Bringing a dog?
Use code WOOF to book on our "Stay With Your Dog" rate - we've applied it for you. Alternatively, select the "WOOF Package" as an add-on to your booking.
We love four legged friends at Locke and welcome them across all properties. To ensure the smoothest of stays, there are a few considerations before letting them rule the roost.


The nitty-gritty.
One dog per room.
Dogs 30kg and under.
One flat fee of £40 per dog stay (includes deep cleaning, treats and toys).
Dogs must have up-to date vaccinations, proof of which should be available on request.
All guests with pets must sign the Locke Pet Waiver form when checking in.
A dog bowl and furry friend door hanger are provided as part of the package, but are to be left at the property upon check-out.
Dog beds are available on request (but not guaranteed).
We reserve the right to ask any guests with pets to leave if the pet is causing damage to the room or is causing a nuisance to other guests.
Related FAQs.
Dogs are welcome to stay in any of our Locke aparthotels, subject to a one-off fee of £40 (terms apply). We'll try our best to make your dog as comfortable and welcome as possible.
For more info on our Dog House Rules, please check out this FAQ.
When you add the 'WOOF package' when booking or book on a "Stay with your dog" rate, you'll get some treats and furry friend essentiats included to help your dog feel more at home. We can also provide dog beds (subject to availability), so that even your pet feels Locke is their home away from home.
Here's a few other things you can do to make sure your dog has a comfortable stay:
Let your dog expore their new home when they arrive, so they can get familiar with new scents and surroundings.
Bring home comforts with you, like your dog's favourite toy or blanket.
Try to maintain a normal routine - just as it's healthy for you to keep up with diets and exercise routines while you're away, doing the same for your dog will keep them more relaxed.
Lots of exercise - although spacious, your Locke apartment might be smaller than the space your dog is used to at home. So it's all the more important to make sure they can stretch their legs and let off steam at least once a day.
Don't leave them alone - make sure your dog has company.
Keep an eye out for any unusual behaviours, like pacing or shaking, whining or barking, panting or cowering. These are a few of the common signs your dog is stressed.
For stays under 29 nights, we only allow dogs in our properties. It's not because we don't love cats too (we do!), but they come with extra difficulties.
Cats like to 'mark their territory', often taking longer to settle into a new environment than dogs. Cat urine is one big problem, and this can be difficult to very rid of - so we can't afford to take the risk for shorter stays. We also want to make sure pets in our aparthotels are comfortable, and moving them around often can cause them distress.
However, if you're staying for a month or longer and making Locke your long-term home, we may be able to sort this for you. Please get in touch with our Bookings team if you'd like to enquire about a long-term cat stay.
Sticking around?
Locke is smartly designed for longer-term living. So, if you want the flexibility and comfort of your own fully-furnished apartment for you and your furry friend, take a look at our long stay rates and larger apartments.