From 16th – 24th September, London's art and design scene comes together to celebrate the city as a world leader, innovator and design capital in the form of the London Design Festival. Annually, the festival celebrates London as a city of free-thinking creativity, drawing from the wisdom of some of the country's most innovative designers and thinkers.
London is home to six Locke properties, each with their own unique design narrative. We have worked with a number of local and international design houses to specifically curate each of our London Lockes. To celebrate our home city, we've officially partnered with London Design Festival and will be hosting a panel on 18th September at Ember Locke, with Designers Atelier Ochre and House of Dré.
So, what is the design narrative behind each of our properties and who are the people behind the design? We are diving a little deeper and exploring some of the main themes and inspirations behind our London Lockes...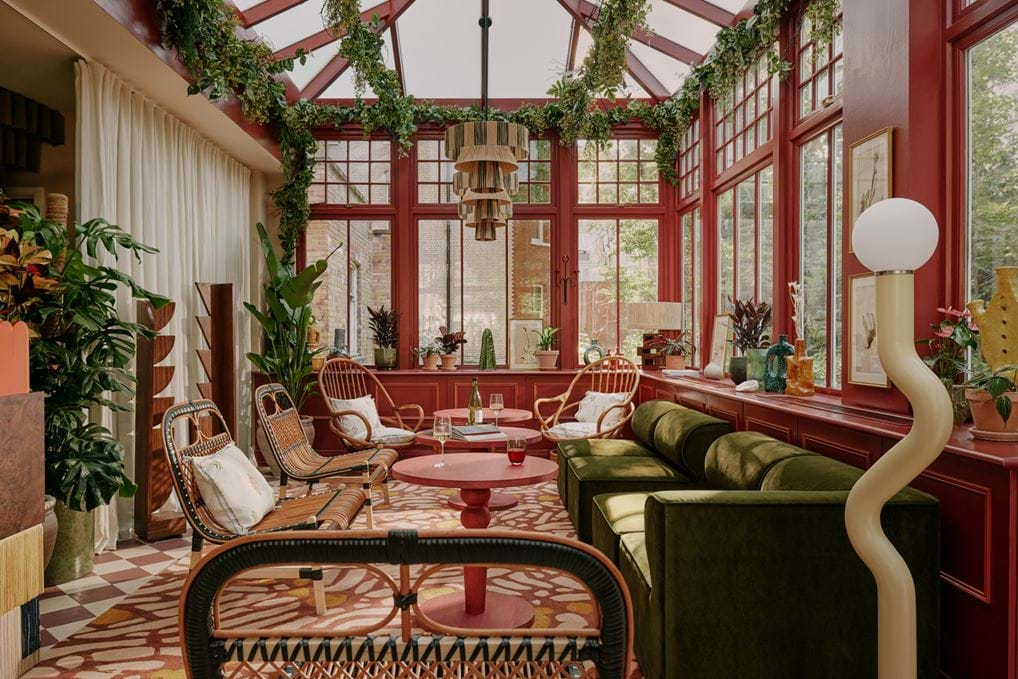 What could be described as the most luxurious of Lockes, this is the first collaboration between Locke and up-and-coming designers Pauline Dellamotte of Atelier Ochre and Dré Christodoulou of House of Dré. Ember Locke is all about decadence, elegance and paying ode to a bygone time. Based on the idea of a renaissance, the design looks back to the golden days of Kensington and the building itself.
Dré and Pauline took particular inspiration from the 'Biba girl'. From the legendary nearby Biba store that existed through the 1950/60's. Biba was seen as a new age for women and carved out a new path for self-expression. They wanted each piece, surface and area within Ember Locke to have its own sense of self whilst speaking to each other. This was achieved through a rich palette and mix of patterns and materials. From the fringes on the DJ booth to bespoke mosaic flooring, alongside carefully handpicked vintage furniture almost everything is unique to Ember Locke. Making it a treasure trove of discovery, a treat for the senses.
Something special to look out for:
The artwork.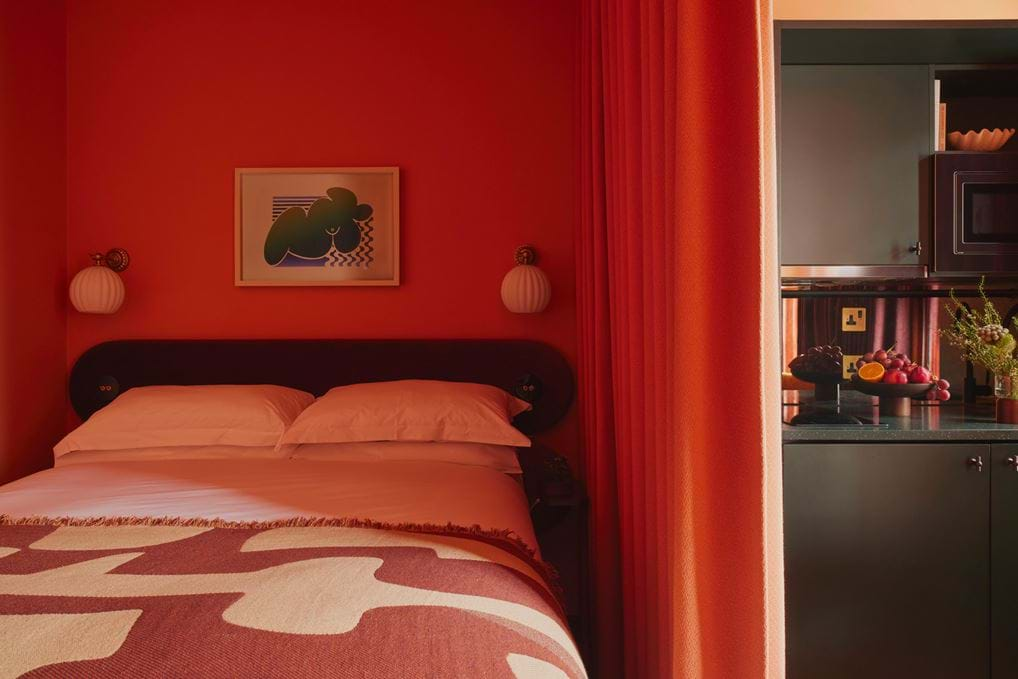 We worked with a friend and local artist on an original, one-off print series that can only be found at Ember Locke. With a retro-futurist design, all images are hand-printed and pressed in Hackney Wick. For Dre, "the artwork is a product of the design in the room", inspired by pushing the boundaries to create something exciting and playful.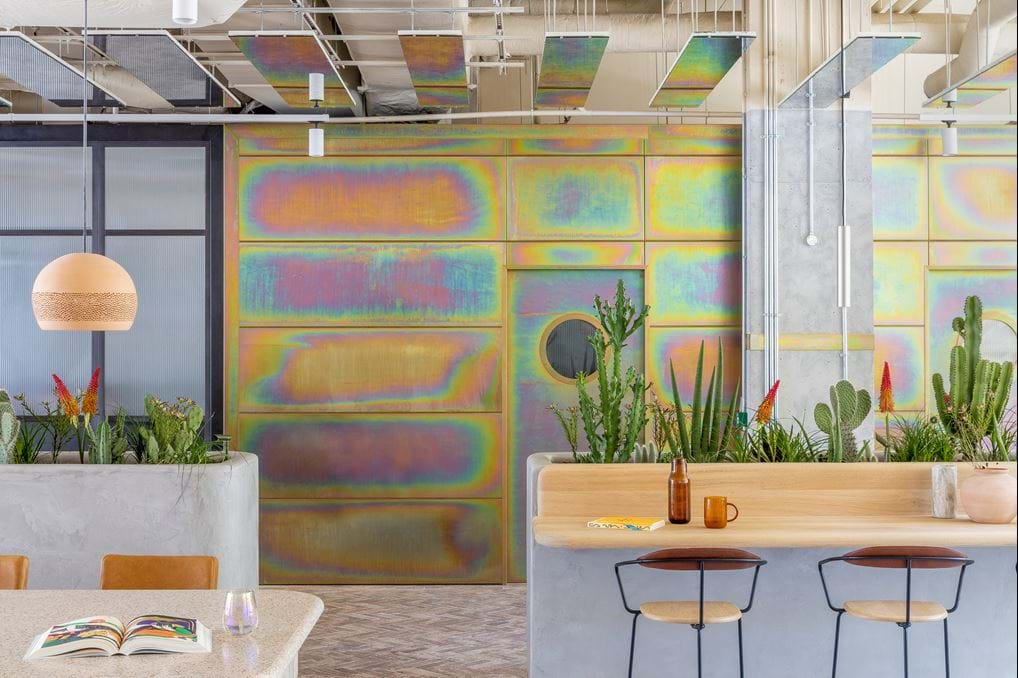 A collaboration between Locke and London-based design house Holloway Li. Bermonds Locke is an urban sustainable retreat in the heart of the city. Inspired by the desert landscapes of Southern California. Each floor of apartments nods to the changing gradient of the desert sun with the upper floors dipped in blue, beige and grey hues with saturated vibrant reds on the lower floors. Bespoke modular sofas were handmade using sand mixed with resin lay-up to recreate the desert's tonality.
The team looked to use sustainable and recyclable materials wherever possible. his can be seen through the repurposed steel and ironwork elements found in the space, which showcases a commitment to using regenerative materials wherever possible.
Something special to look for:
Bespoke bed frames.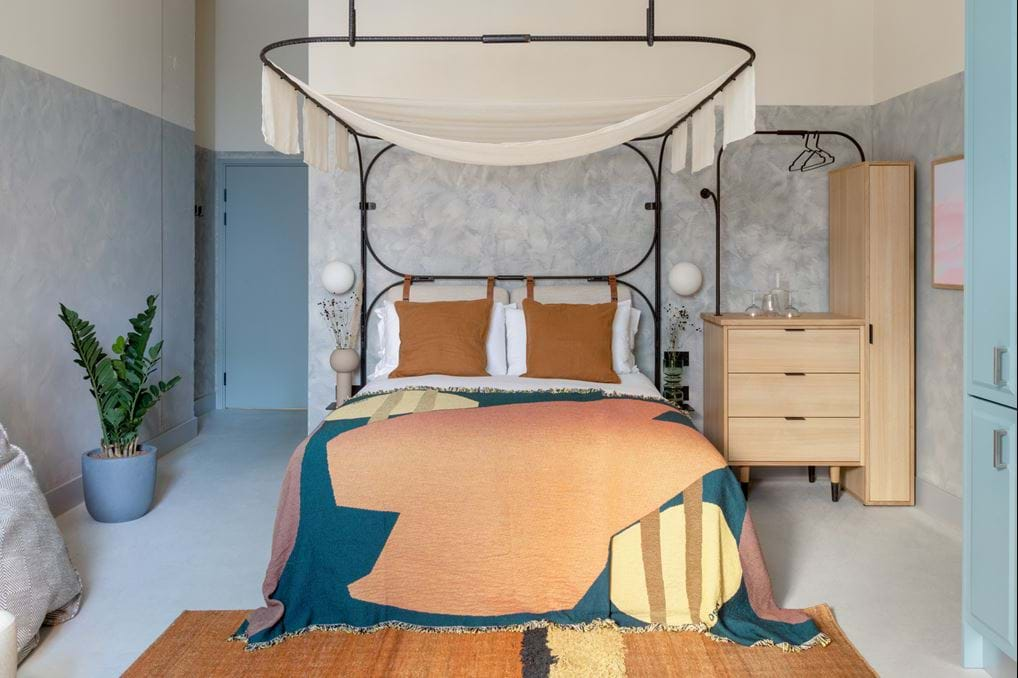 Bespoke bed frames were woven from re-used ironwork, draped with linen canopies. The designers saw this as an opportunity to "infuse old notions of the concrete jungle with a new sense of sanctuary." Whilst paying homage to nature's wonder.
Delve deeper into Bermonds Locke's aparthotel design.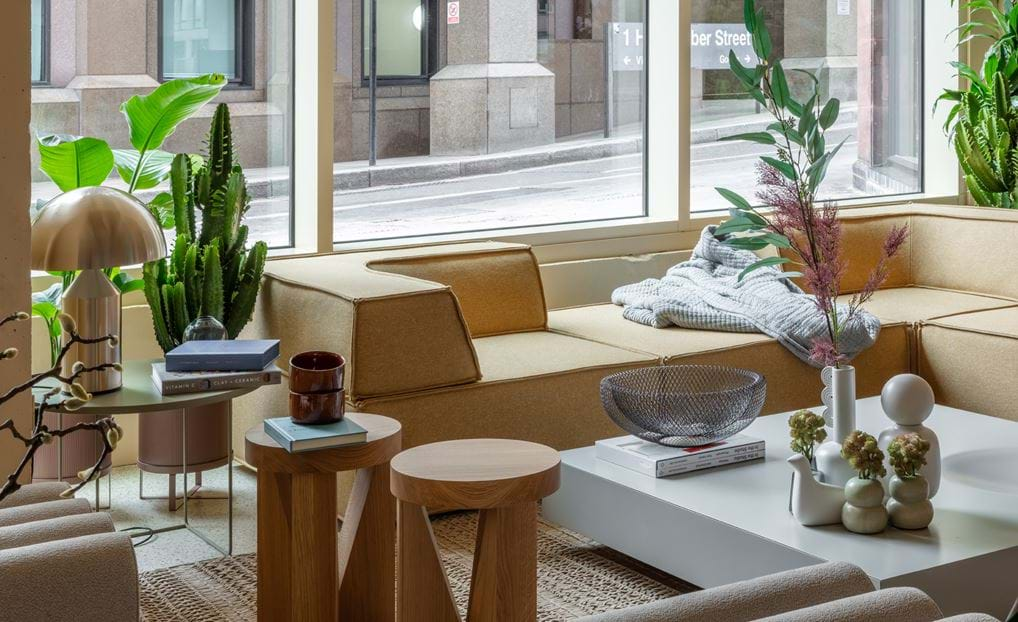 Designed by Matt Grzywinski, Locke at Broken Wharf took a disused office building and turned it into a riverside retreat. For Matt, the project involved "transforming an edifice in such a unique and integrally diverse location" and was "the ultimate adaptive reuse project", something he loved because he was able to upcycle a building. Apartments feature predominately earthy tones and materials such as timber and cane with warm butterscotch upholstery to bring softness to the design inspired by the vista of the surrounding Thames Path.
Something special to look for:
The co-working area.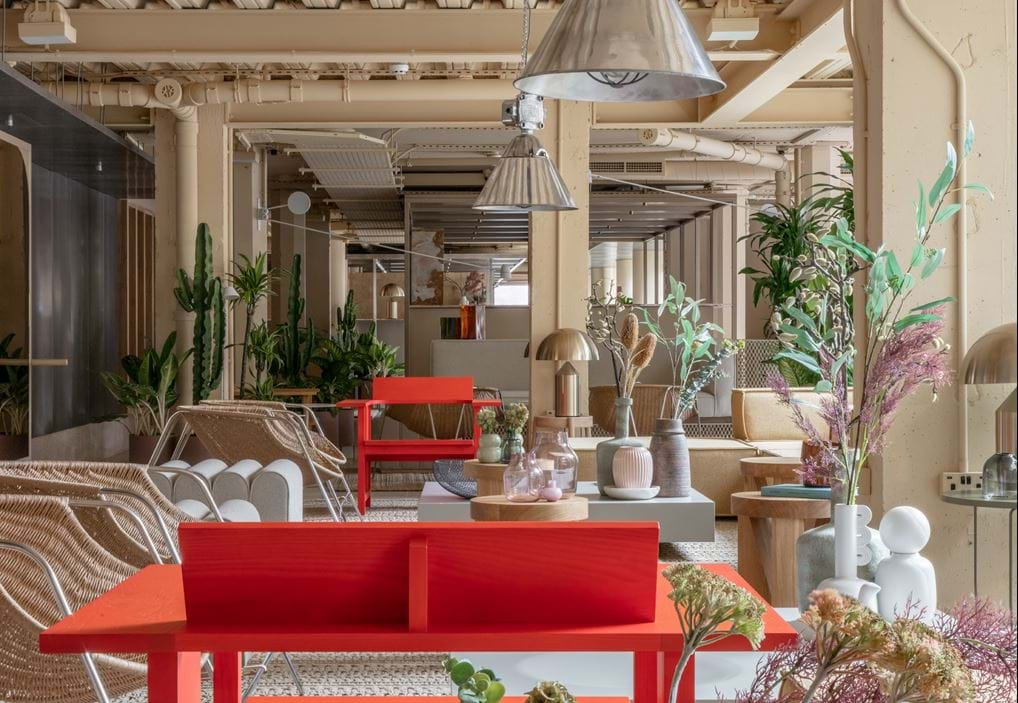 Grzywinski's decision to keep the raw bones of the buildings throughout the social spaces was intended to reflect the duality of "London's gritty urbanity and the serenity of the Thames." This is seen in the continuity of the social spaces, with no sections or floors. The furnishings and fixtures act as the warm and inviting aspects.
Read more about Locke at Broken Wharf's aparthotel design.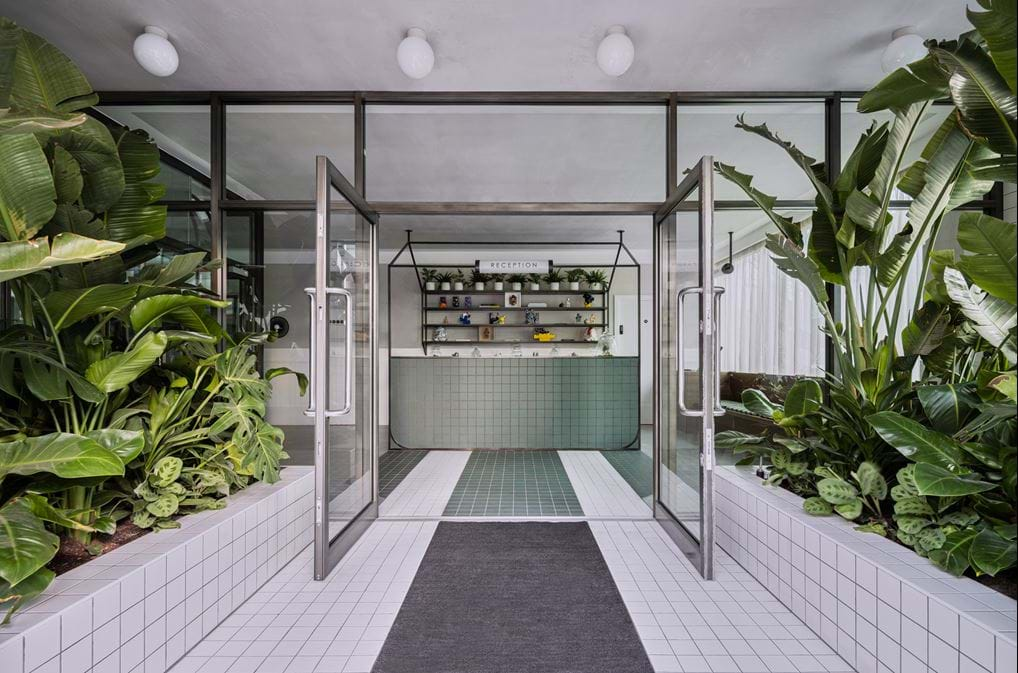 Working alongside London architectural and interior agency Red Deer, Kingsland Locke was designed to be hyper-local to the surrounding area of Kingsland Road and Dalston. The initial design inspiration was from nearby Ridley Road Market. This can be seen as you enter the reception area, stylised to look like a market stall with temporal metal framing alongside colourful tiling and plenty of greenery.
Kingsland Locke saw the brand move away from pastel colours and lighter designs - embracing walnut-looking cabinets and green velvet sofas, which are accented with geometric tiles and concrete walls to accentuate the colours. Red Deer, where possible, incorporated environmentally friendly materials and recycled plastics throughout, along with repurposed finishes normally synonymous with urban London.
Something to look for:
Banquet booths in the co-working.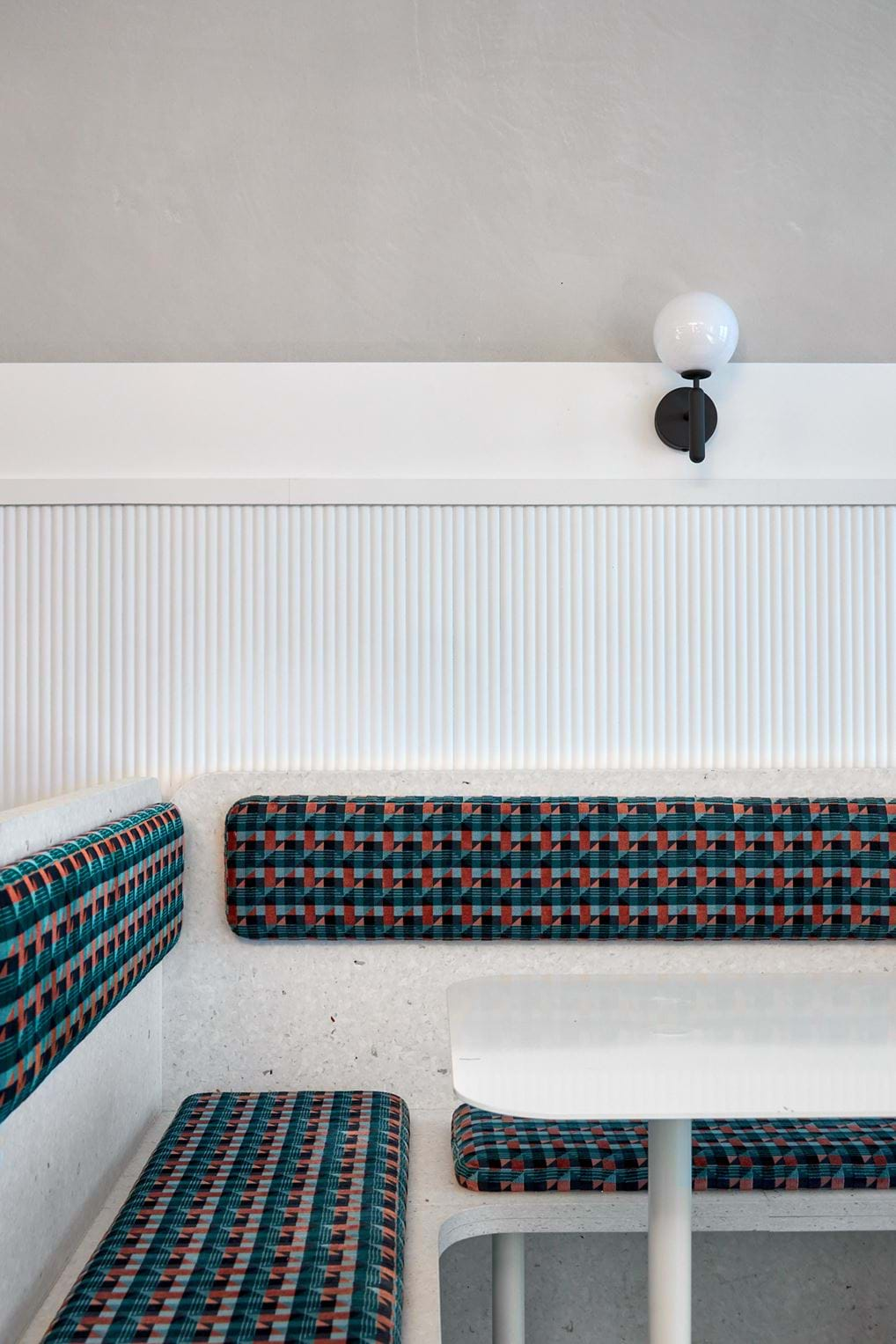 Find banquet-style booths in the co-working and restaurant space that are adorned with fabrics to represent the nearby overground, which links Dalston with the rest of London. Its synonymous pattern features teal and pastel colours to fit in with the overall design of the space.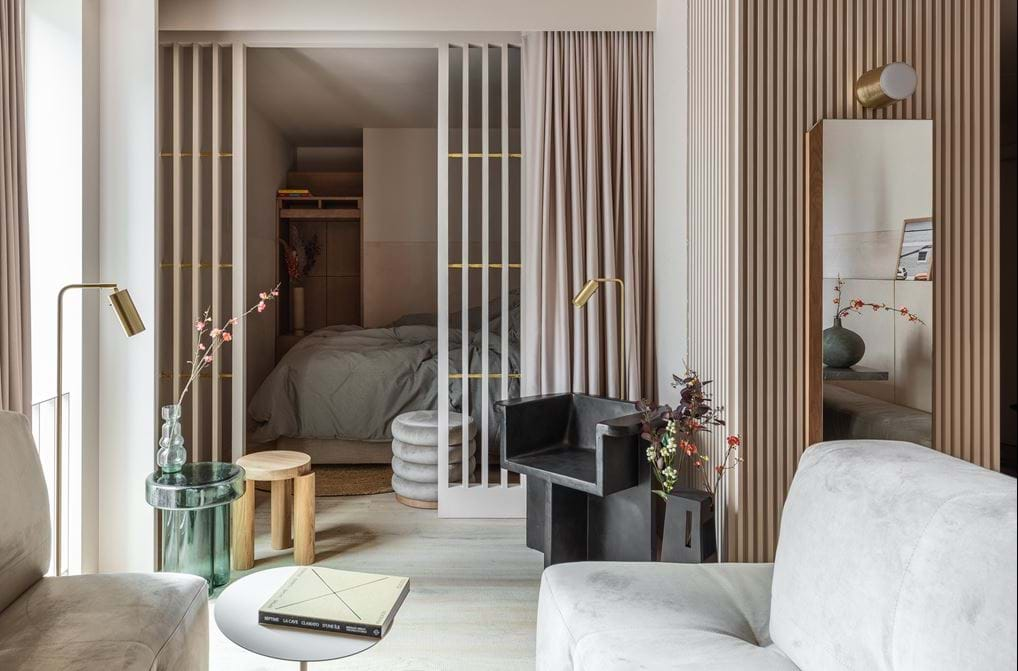 Another collaboration between Locke and Matt Grzywinski, Buckle Street Studios is one of our most unique properties in terms of design and architecture. Built from the ground-up, the exterior was made to be an experience for both those staying within the property and passers-by observing the exterior. It's designed to resemble a modernist lighthouse, with translucent glass enclosing the two top floors.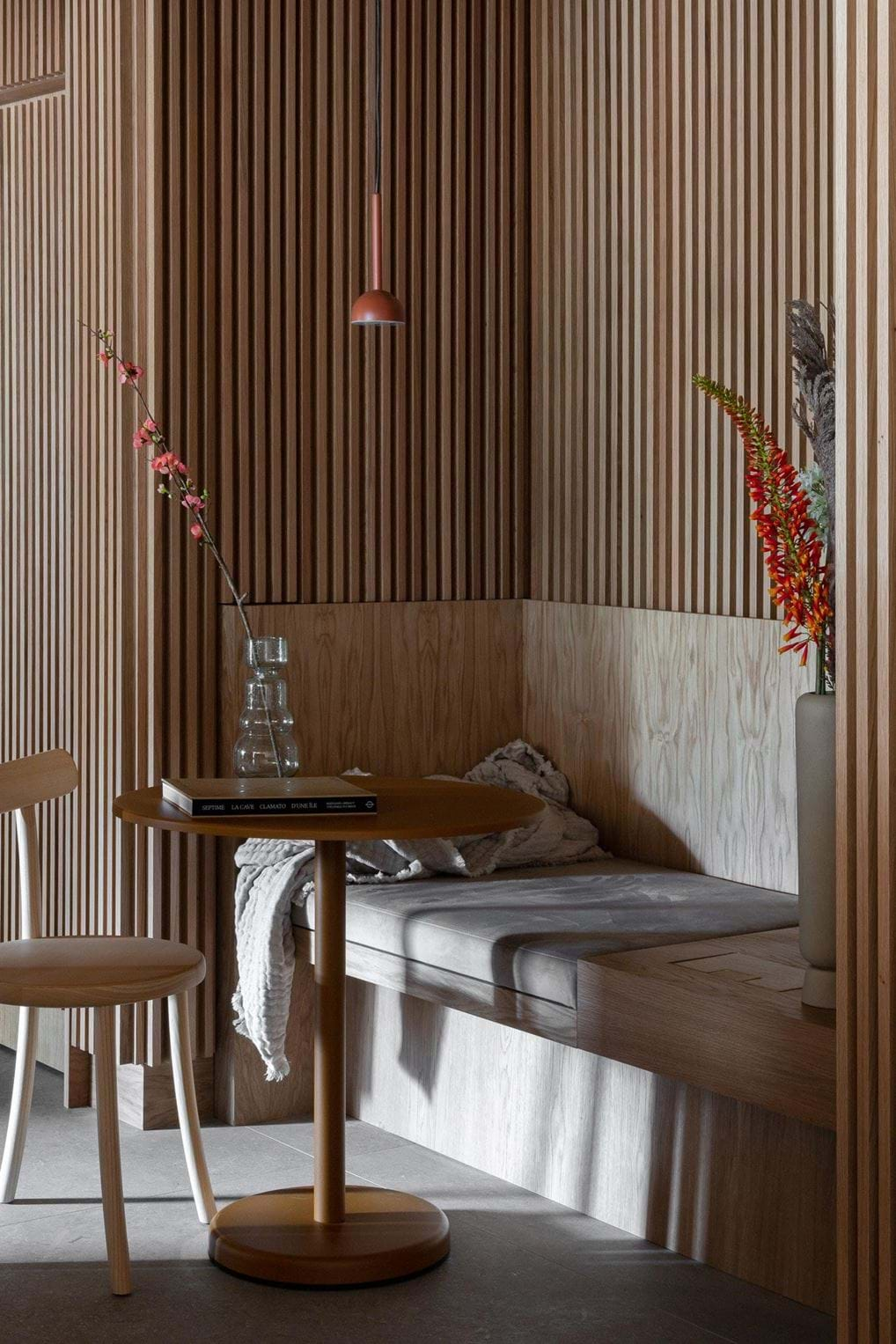 Buckle Street Studios combines soft neutral tones, unique, enigmatic spaces and moody lighting with raw concentre and plaster alongside brushed brass finishes. The social spaces feature curved furniture and smooth arches are to create a calm and serene space for both locals and guests alike.
Something to look out for:
The Maker's Space.
Conceptualised to resemble an art gallery meets concept store. The Maker's Space is designed as a platform for emerging, local designers to showcase their work.
Find out more about Buckle Street Studio's unique design and discover new artists featured in The Maker's Space.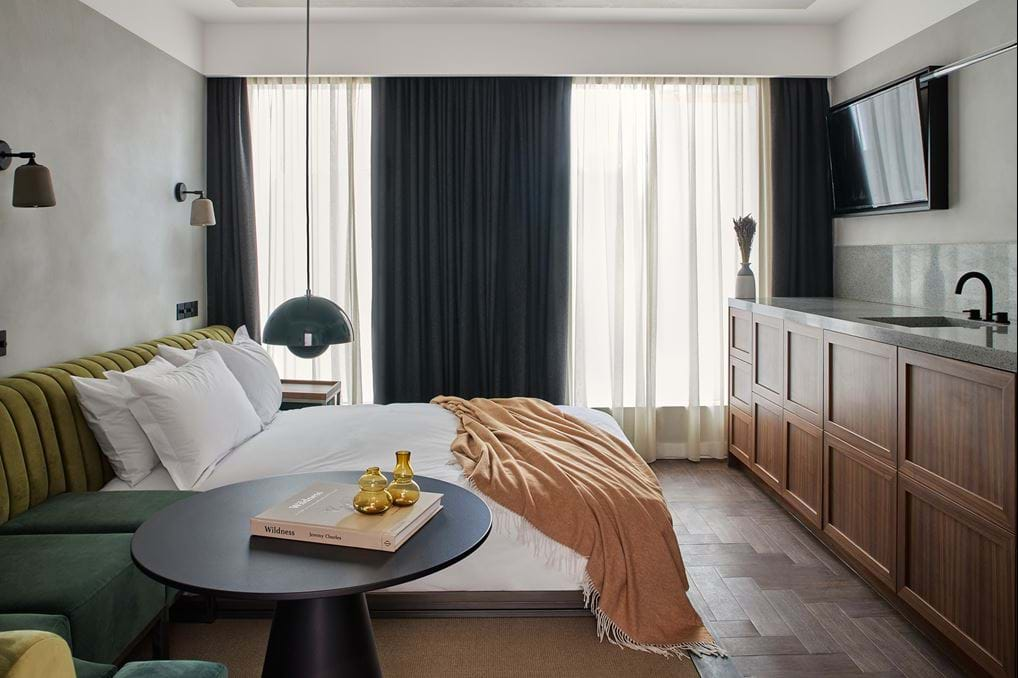 Design is part of Locke's DNA. Each Locke property is unique in its conception and design - and with no Locke being the same, you'll experience a new world at every visit.
If you're planning on visiting the London Design Festival, use the code 'DESIGN' on the Locke website to get the best rate across our London Locke properties for stays between 16th – 24th September.
*Book by 23rd September. T&C's apply