Sebastian Schwamm is an editorial illustrator based in Munich, Germany, with an impressive skill for cartoons and scenes bursting with colour and vibrancy - often creating intricate, fun, and abstract characters in the form of prints, T-shirts, and much more.
Having recently illustrated the key cards, wash bags and umbrellas for the newly opened Schwan Locke, Seb reveals his favourite places in Munich, discusses it's creative bubble and the importance of good music with a Negroni Sbagliato.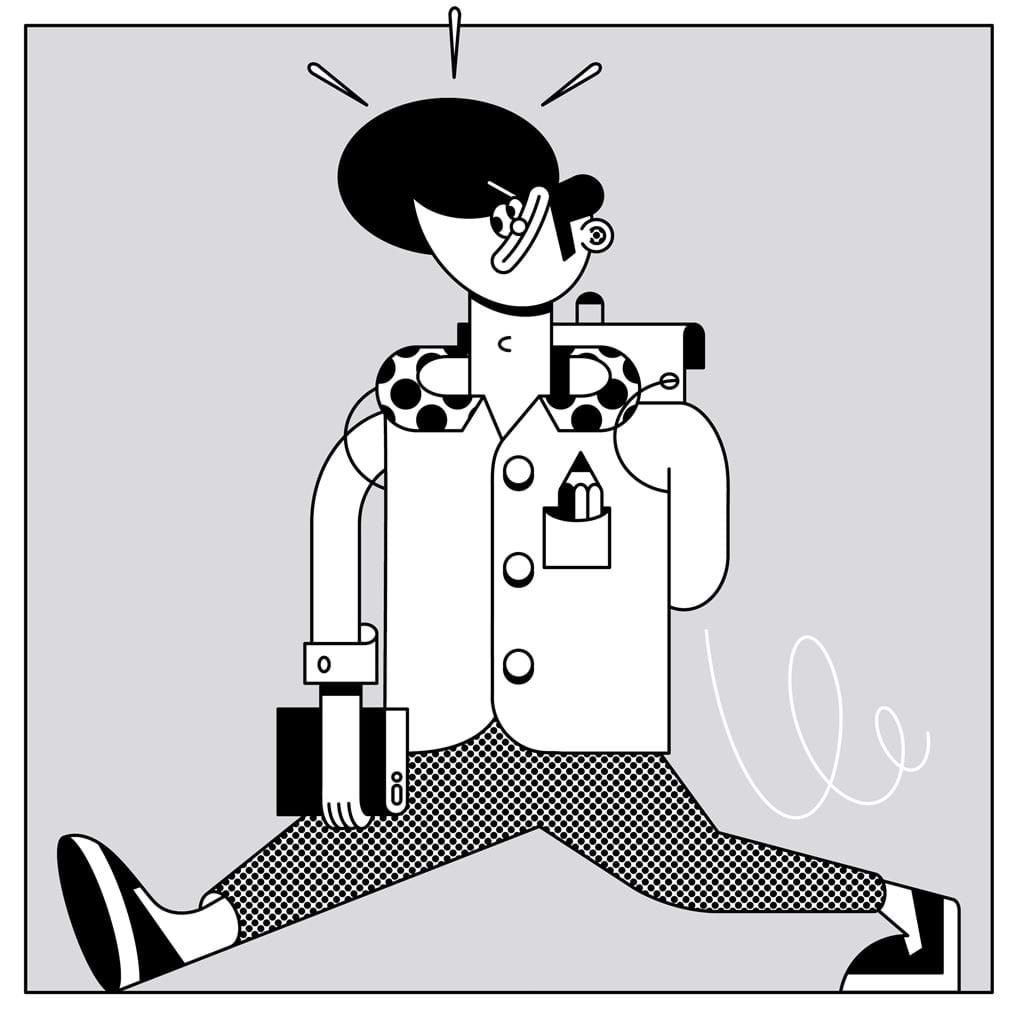 Talk us through a typical working day for you?
I normally try to start my day with some exercising and a healthy breakfast afterwards. It sounds super cliché but this routine does a pretty good job for my health both mentally and physically - in these times more than ever!
After checking and answering the most urgent emails/DMs, I start my actual working day either by getting some more administrative shizzle done. If that's not absolutely necessary, I'll jump over to the fun part and get the creative juices running either by doodling around for a while with no concrete destination, or by playing around with some already vectorized material from my digital construction kit. This would include rearranging/remixing/recolouring work to either get new ideas, or just to feed the algorithm. After that, I'm usually in the right mind set to start working on some jobs or personal projects. No witchcraft involved!
Ah - now I almost forgot - having the right soundtrack is always very important! My local recommendation is the fantastic Munich-based online radio station: Radio 80k! Shoutout.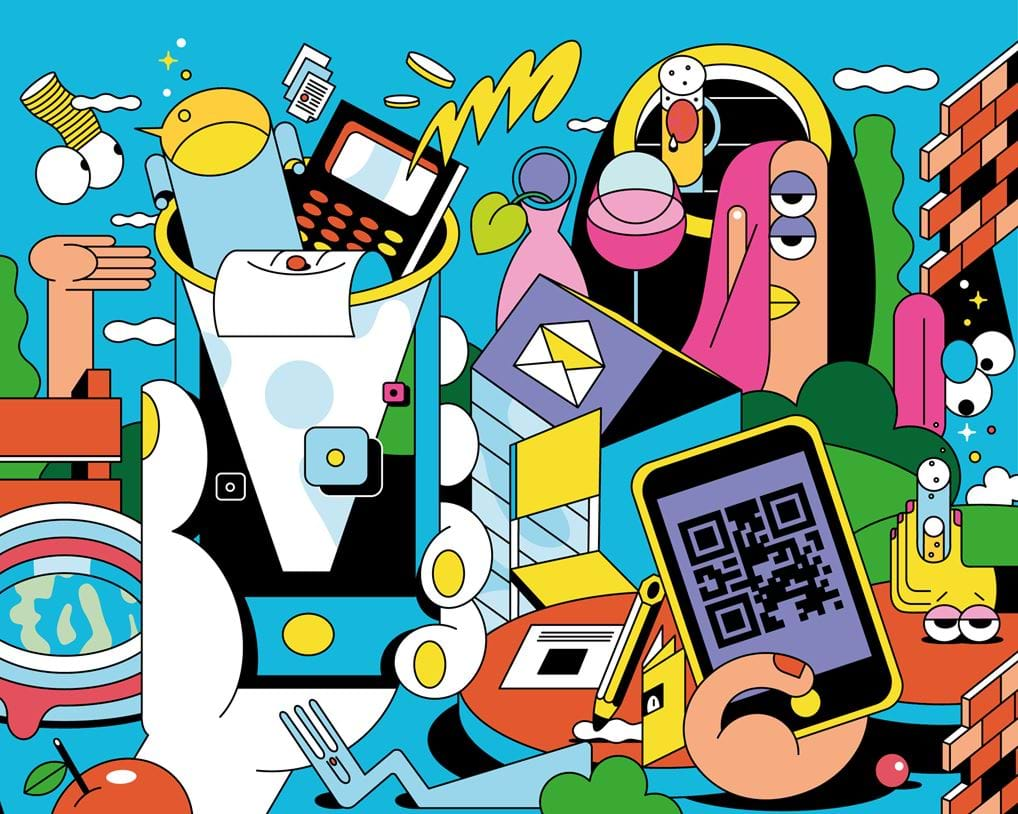 What is your earliest drawing memory?
Drawing very weird tractors to impress my grandfather!
What are the key ingredients to a Sebastian Schwamm illustration?
I'd say: colourful boldness, clean line work, a fondness of grids and patterns, definitely a bunch of abstract and quirky characters, and a big portion of fun. And, as my grandmother once said, I seem to be obsessed with drawing big eyes and hands - so a lot of those as well.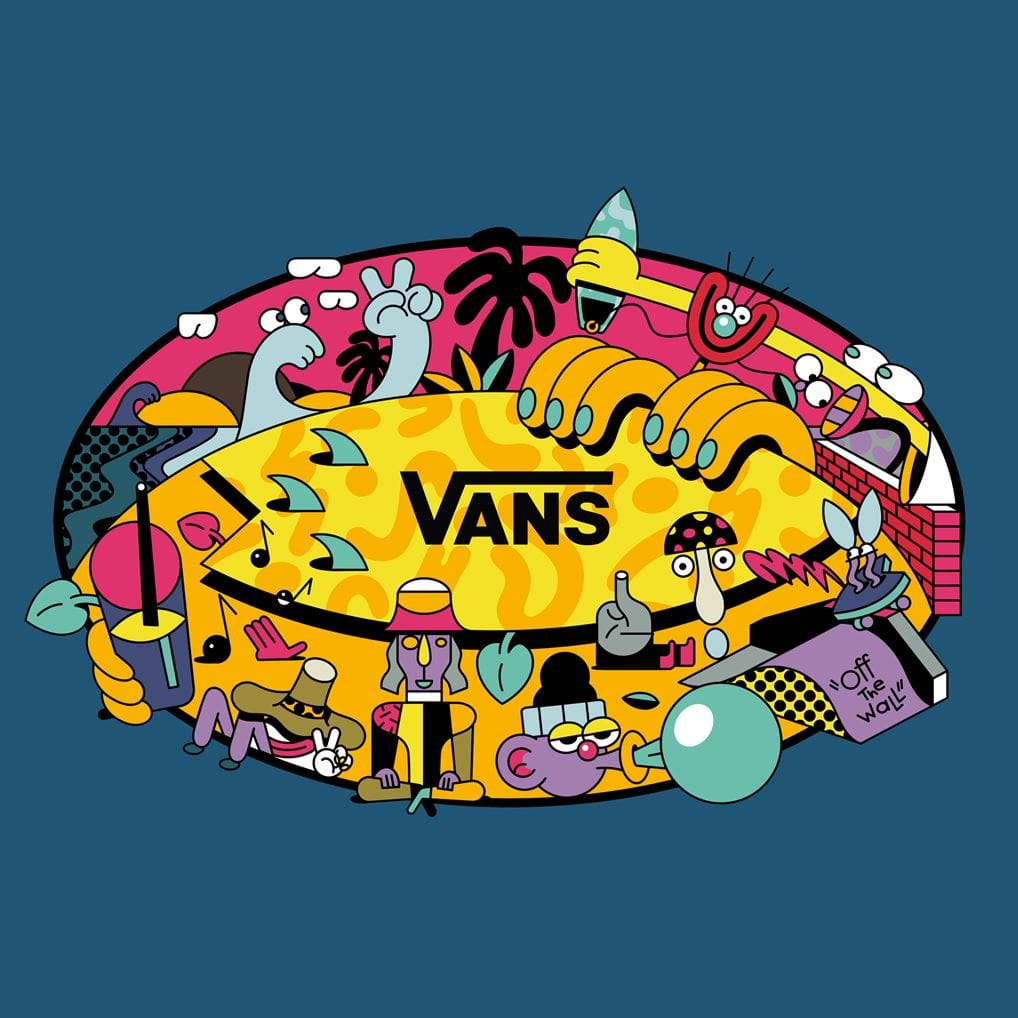 As a creative living in Munich, where are some of your favourite places to be stimulated for ideas or inspiration?
I really like going to museums - not just to art museums, but also science ones. If you want to see some pretty dope character design by the Ancient Egyptians for example, I'd recommend the Staatliches Museum Ägyptischer Kunst next to the HFF. As a massive movie nerd I also love going to the movie theatre, especially the smaller, older ones.
I'd also recommend strolling around maybe with a good ol', Weg-Bier' (beer to go) or any o drink of choice. Just observing people - both now and during non-Corona-times. I found it's always a pretty good way to clear your mind, and of course for get new visual input. In this case you also learn to appreciate how compact Munich is; it's a great city to be explored on foot!
How would you describe the creative community in Munich? Would you like to give a shout-out?
I would say Munich consists more of many small creative bubbles rather than just one. You'll definitely find a lot of people doing some pretty cool stuff, but they are a little bit more scattered than elsewhere in my opinion. In this context I also have to say that Munich doesn't particularly promote and encourage a big creative scene with aspects such as its expensive rent.
Yeah of course - I'd love to give a shout out to Nina Bachman whose colourful work I really dig - especially the more raunchy stuff. Go and check out her work: @ninamandariina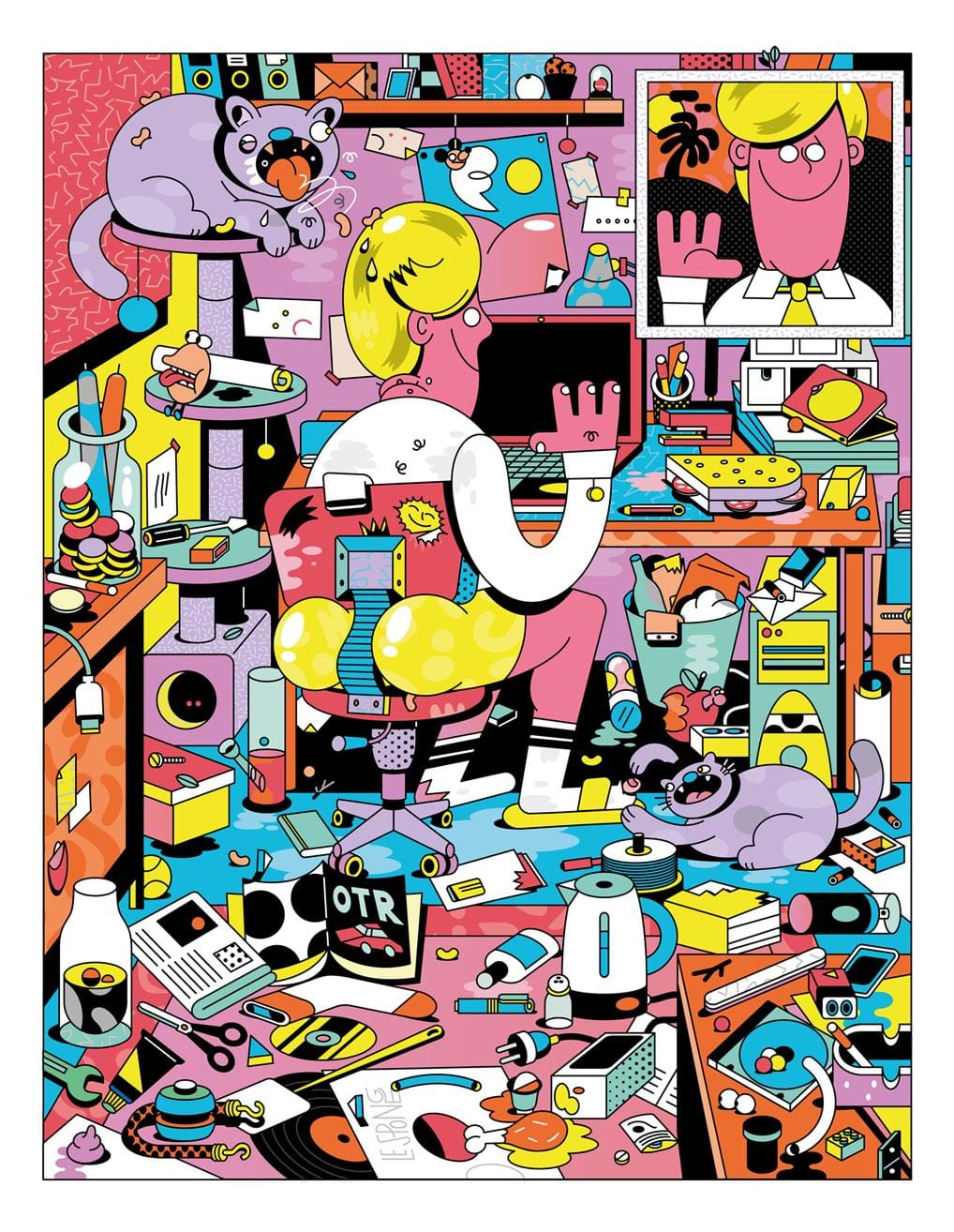 "We've now reached a point where real interaction is sorely missed, not only from a social but also from a creative point of view."
It must have been difficult being deprived of these connections during lockdown. How did you continue to inspire, educate and support each other (and have fun)?
Hell yes - indeed! I'd love to give a cool, encouraging answer at this point, but to be honest I have to say staying motivated and inspired in these weird times isn't that easy, or at least it's becoming more and more challenging.
Just speaking for myself, but during the first lockdown for example I experienced some kind of pleasant deceleration in a way - some extra time to reflect on certain things/pick up old threads again - I think we've now reached a point where real interaction is sorely missed, not only from a social but also from a creative point of view.
What bars or clubs should we visit when we're in Munich, once we can travel again?
And once they are (hopefully) soon back open again!
While the club landscape could be a little bit more... (carefully speaking) exciting, you'll definitely find some really nice, cool bars in Munich. One of my favourites is the Komitee - it's a very chilled, enjoyable and unpretentious place close to the university. They've got good music, a nice little terrace and affordable prices. My favourite drink (to go): Negroni Sbagliato! What more could you want? Shit - they should have paid me for that!
Other recommendations include; the VON&ZU which is located diagonally opposite from the Komitee. Also, the Cucurucu and the Karotte Bar (on Thursdays) in the station district. I also enjoy the good (veeery) old KILOMBO, or the not-so-old-at-all (and hopefully still alive after all those lockdowns) Schwarzer Dackel in the West end.
Some further classics: Favorit Bar, Wedding Chapel, Geyerwally, and the list goes on and on and on...
For concerts, I'd definitely recommend the small but always very nice Strom. I've got really great memories of seeing Kevin Morby play there, or Austrian Supergroup Boy Jürgens aus Wien.
For 'an gepflegten Absturz' (getting shitfaced AF) I'd say Zur Gruam, and maybe afterwards a detour to Bahnwärter Thiel.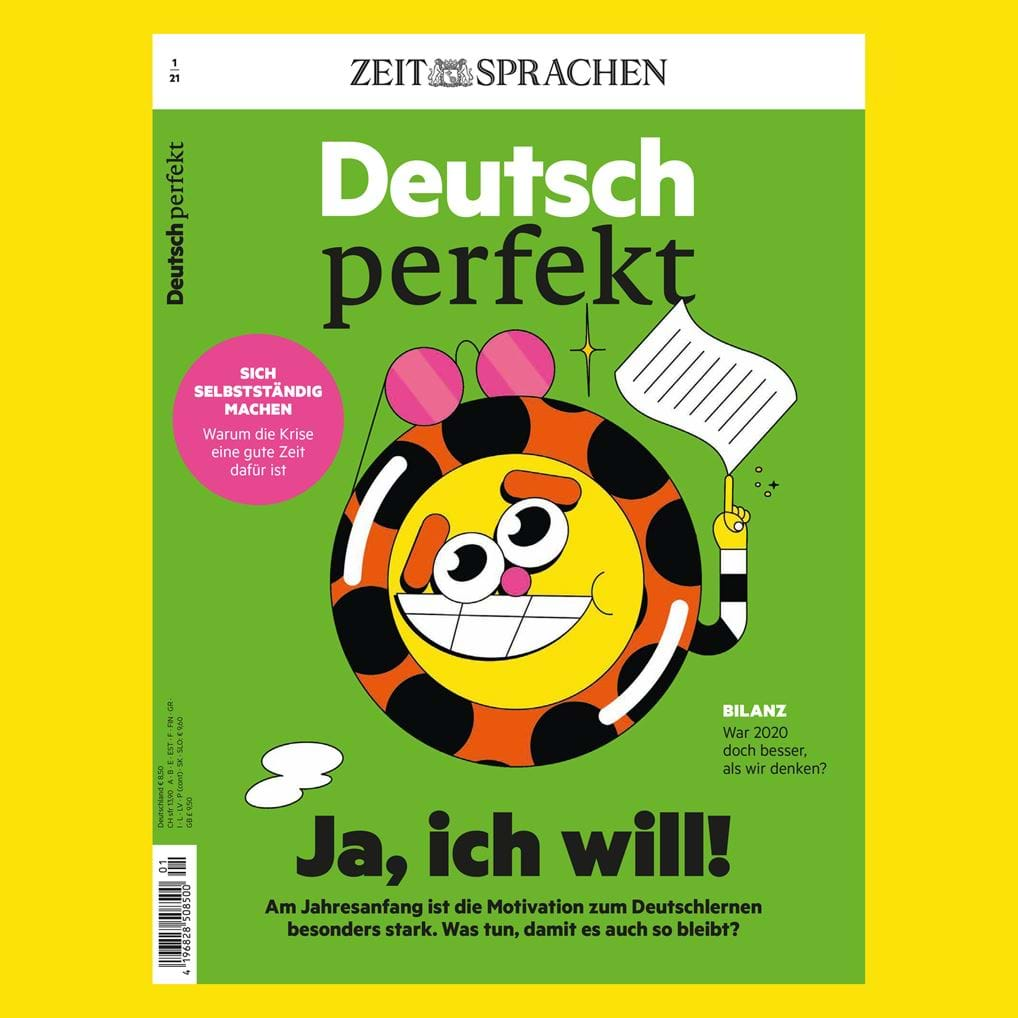 Finally, and most importantly, if you were a dessert, what dessert would you be?
Haha - I am not that big of a dessert guy - but one thing that ALWAYS goes for is gelato! Preferably from Punto Gelato in the neighbourhood.
More about Sebastian.
Head over to Sebastian's Instagram to explore more of his work.