We all know the thrill of turning to our favourite oozy, melty, salty junk food of choice when the going gets tough, so it's perhaps no surprise that 2020 was the year when "comfort food" got elevated all the way to "salvation food".
When the world gets a bit shaky, there's nothing to glue it back together like the sticky strings of a grilled cheese sandwich – something that Griolladh co-founders Jacob Long and Jack Brennan understand only too well.
Bar managers who were furloughed during the first lockdown back in March, Jacob and Jack decided to use their unexpected free time to launch a pop-up food truck in a front garden in the Malahide district of County Dublin. By focusing on the humble hero that is the grilled cheese for their menu, Griolladh (meaning "grilled") was a hit with the new WFH brigade and has since expanded to five successful pop-ups across the county.
In using 100% Irish suppliers, collaborating with other independent businesses and supporting local charities, Griolladh has proved that the power of community and determination can turn up (Kerry)gold from grit, even in the hardest of circumstances. We grabbed a few minutes with Jacob in between setting up their six-month residency at Zanzibar Locke to chat about starting a business in lockdown, the collaborations that helped them through and Dublin's new street-food scene.
Griolladh is a bit of a lockdown baby – what's the story behind its conception back in March? How did you come up with the idea?
Myself and my business partner Jack were both temporarily laid off due to Covid-19. It was towards the end of the first lockdown in Ireland and we were talking over the phone about what we were going to do for work. We spitballed some ideas and both agreed that we should get a food truck! It wasn't anything we'd planned or been involved in before, although we'd both been working in hospitality for over a decade.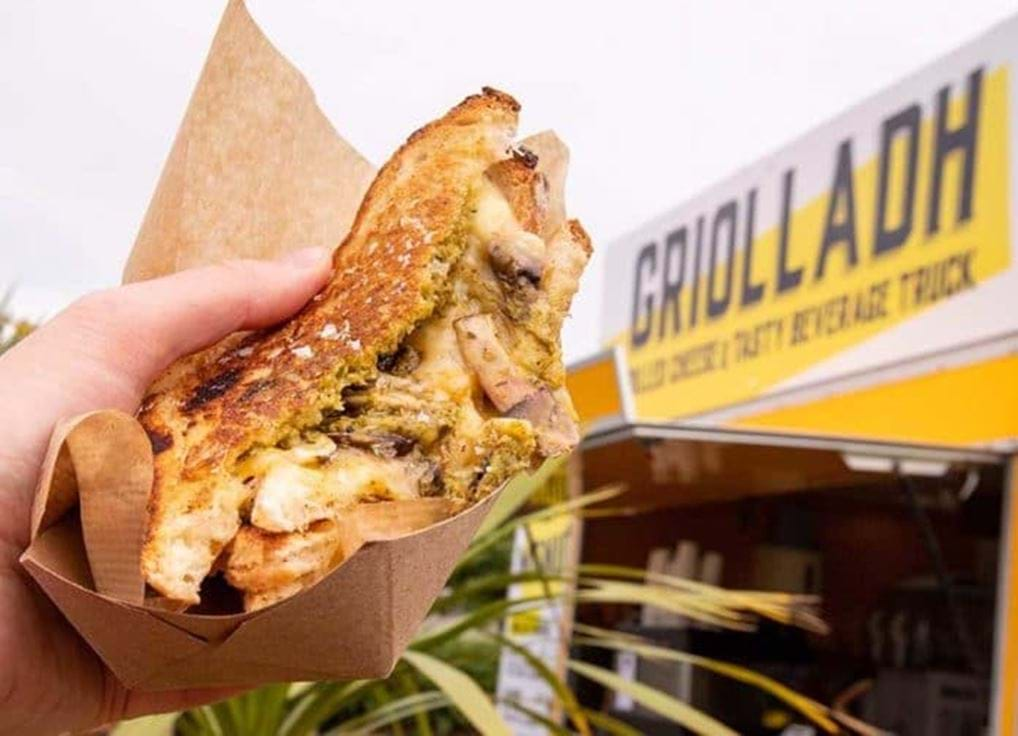 Why did you choose grilled cheese? And how do you come up with your creations?
We organised renting a van first and then began to process what we were going to sell second! We eventually decided on grilled cheese because we thought it was something simple that we could do in a tight space, but which we could also work on perfecting by choosing the best bread, blending cheeses and creating interesting flavour combinations.
What were the challenges of starting a hospitality business during the tricky (and very restrictive) first lockdown?
I believe some things were harder, but at the same time some things were easier. Obviously there was a lot that we had to be extra wary of in terms of health and safety, but people were also more helpful, calm and supportive than they might have been before. There was less expectation too – it was a shot in the dark, so we felt less pressure.
What was the response from the community around you?
It was phenomenal. The community in Malahide got so behind us. We never expected to be as busy as we were, especially so quickly. Everyone was understanding, helpful and most importantly, happy.
How did you evolve the concept so quickly to several new locations?
We just continued to deliver crazy specials and fantastic service. As well as this, I believe our social media presence allowed us to spread so rapidly – the word got out across Instagram land and our following grew exponentially. As well as our local community, the online community are the ones who pushed us and helped us grow.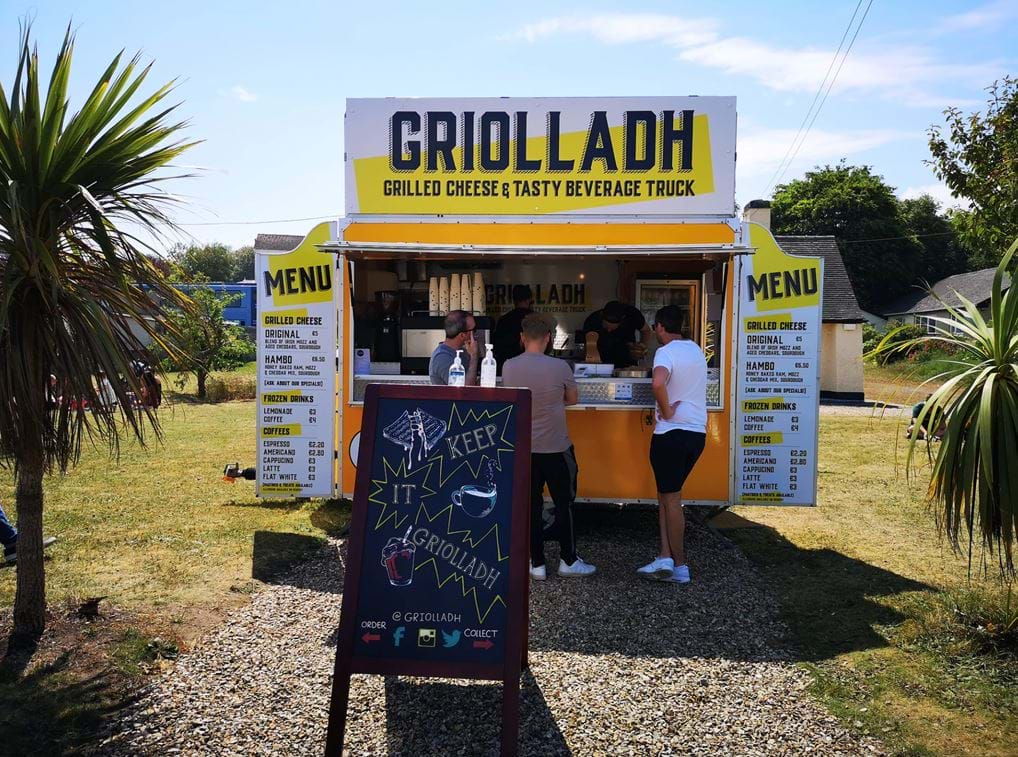 You've collaborated with lots of other local businesses over the course of this year. Tell us a bit about them.
We've worked with Imbibe coffee for several years. As well as roasting some of the best coffee in the country, they do so much for the global community. They have fantastic ethics and we're delighted to be working with them. We also work with some other fantastic people such as Mud Bakery and Tartine. We found them through research and have developed a great relationship.
Are there any other pop-ups that have sprung up this year that you'd like to shout out?
BUA is another coffee-focused food truck that is great. The Middle Child is a baker who also set up during lockdown and provides us with some of our most popular goods. There's loads more I can't think of off the top of my head! We also recently did an episode of the podcast That's Bangin', which is all about the best food and drink coming out of Ireland.
Do you think pop-ups will be the future of hospitality after 2020?
I think they're already big, especially outside of Ireland. They're only getting bigger and giving fantastic platforms for new businesses and creatives to shine.
Other than being in a building rather than a truck, will Griolladh at Zanzibar Locke be any different to your other locations?
Well, it's certainly a lot fancier! I love how it gives us the opportunity to build both short and long-term regulars. We get to create new relationships every day. Our MO has always been to make every customer's day better and here we get to do it in a new way with the hotel's residents.
DO IT. Try not to overthink.


If Zanzibar Locke was a grilled cheese, what would you fill it with?
I think something bougie... we did a wine and cheese sandwich a few months ago that would work perfectly – a reduced red wine, grape and shallot compote and tipperary brie grilled in our sourdough. It's familiar as well as exciting – something most people have had before, but never in this way.
What are your favourite places to take mates for a laidback lunch in Dublin?
HMMMMM. I like Krewe and Brother Hubbard, which are just around the corner from us. Etto is amazing and The Winding Stair has great Irish food.
How about your top bars in the city?
The hardest question so far! Gibney's of Malahide is our day one-er. Toners is a great traditional pub, while 37 and House are the best for cocktails and late nights. Finally, Sheehans has some good grub and a fantastic atmosphere.
Is there a street food scene in Dublin at the moment? Do you have any favourite food trucks?
If there wasn't one before, there definitely is now! It's still only growing, but there is some fantastic stuff out there: Janets for dumplings, La Cocina Cuevas for Mexican, The Saucy Cow for vegan, plus The Sambo Ambo for sandwiches.
What advice would you give to others out there thinking about starting their own thing, even in the face of everything that's happened this year?
DO IT. Try not to overthink. Research, know your customers, and remember location, location, location.
Grilliodh is currently in residence at Baraza, Zanzibar Locke.