If there's one thing more bountiful than pigeons in the city, it's probably the number of Starbucks, Costas and Café Neros. However, for those that treat coffee like their wine and want an ambience to go along with it, London isn't Seattle; but it does come very close. These are our favourite independent caffeine corners in East London, where there's a high chance the barista knows your name.


1. The Shoreditch Grind.
The best place to wake up (with loud music and coffee).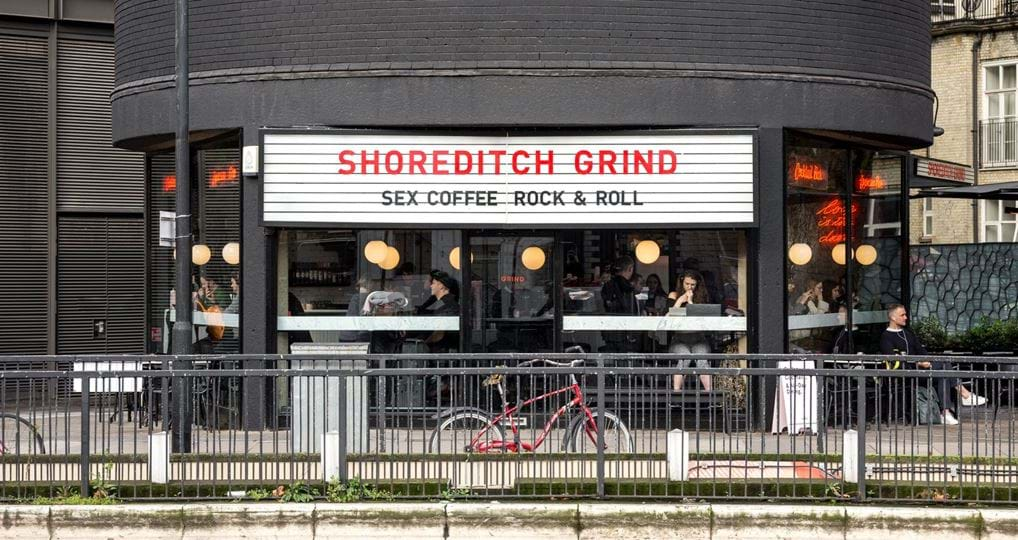 If you are looking for great music (that's a little loud) and good coffee, then this is the place for you. With a super chic setting overlooking the Old Street Roundabout, this 5-year-old Shoreditch corner, recording studio and bar offers amazing coffee, cakes, pastries, small plates, and cocktails all day long. Don't go in without looking up to at the old school cinema sign above the main entrance with a slogan that changes daily. It just might make you laugh.
213 Old Street, London ED1V 9NR
2. Ozone Coffee Roasters.
The best place for a healthy breakfast and coffee on weekdays.

The relaxed, quirky and organic atmosphere of Ozone Coffee Roasters makes it one of our top places to get your caffeine fix in East London. This Old Street venue has deliciously fresh, quickly prepared brunches, including their iconic Eggs Benedict on summer bubble 'n' squeak cakes with hollandaise sauce – Bon Appétit. The real highlight of this spot is the fact that they roast their own coffee in the basement. You can't get any fresher than that.
11 Leonard Street, London EC2A 4AQ
3. Long White Cloud.
The best place for Sunday brunch and coffee.

Like to spend your Sundays buying flowers and listening to buskers on Columbia Road? Then a pit stop at Long White Cloud is just what you need. Enjoy one of the best cappuccinos in town, and delicious scrambled eggs on toast with smoked salmon and avocado for brunch while enjoying the new photography exhibition by @artmemos, the Kiwi mum.
151 Hackney Road, London E2 8JL
4. Kahaila.
The best place for coffee and cake.


If you head to Brick Lane market on a Sunday then chances are you won't get a table, but it might be worth trying. There is a very creative, entrepreneurial vibe; you might overhear the next 'unicorn' start-up idea, but this isn't even the best part. The East London venue not only has excellent and ethically sourced coffee and mouth-watering cakes, (a slice of red velvet cake and a latte is a must) but this Brick Lane coffee shop also runs as a charity with all profits going to support community projects.
135 Brick Lane, London, E1 6SB
5. Caravan.
The best place for fresh coffee.


Freshly roasted coffee, a real hipster decor and quirky staff are the essence of a great experience at both the Kings Cross and Exmouth market branch of Caravan bar and coffee shop. These busy spots impress customers with an amazing selection of healthy dishes, as well as cool juices, smoothies and of course the unbeatable green coffee which comes from single farms around the world where the focus is quality and sustainability.
11-13 Exmouth Market, London EC1R 4QD
In theory, our list should finish here as we know the next one isn't exactly in the heart of East London. But seriously, it just has to be on the list...
6. Prufrock.
The best place for latte, brownies and coffee education.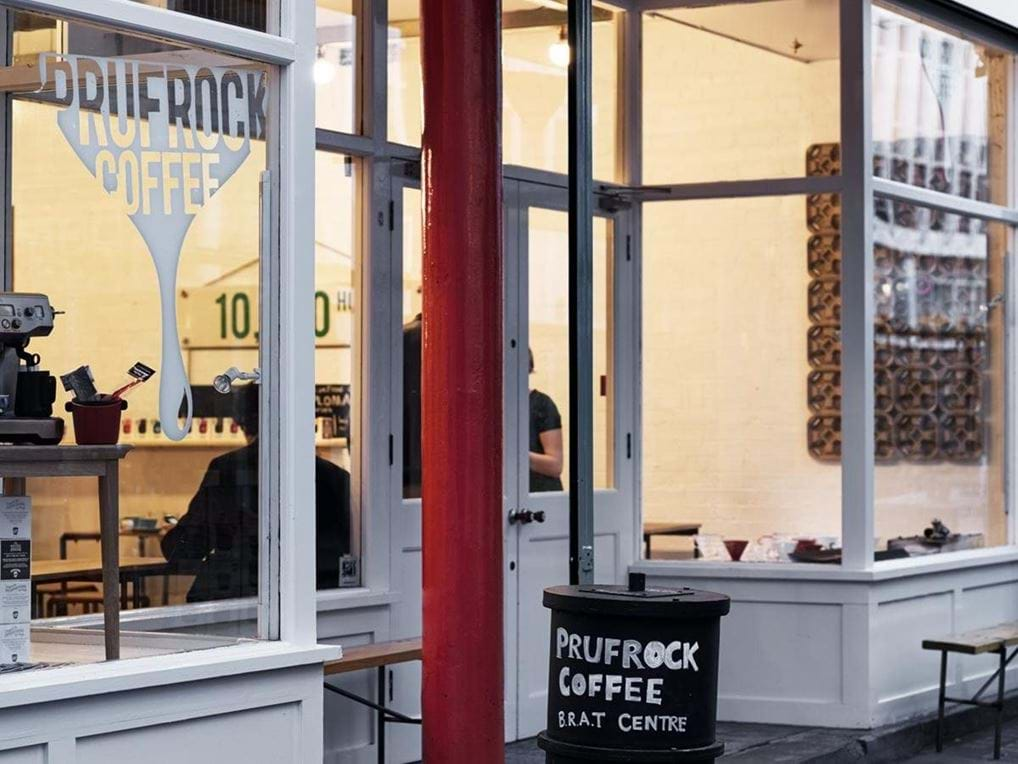 This large modern cafe located on Leather Lane is the home of tasty coffee, delicious brownies, homemade food, coffee tasting and our favourite, the barista courses. Jeremy Challender (UK Barista Championship Head Judge) and his friend and mentor, Gwilym Davies (World Barista Champion) established their coffee training courses back in 2016, which are now run by Authorised SCA Trainers with over 15 years' experience in specialty coffee. So, if you're planning to have a barista career in Miami (the guys from Panther Coffee are hard to impress) all you need to say is that you took the latte art class at Prufrock and tada - the job is yours.
23-25 Leather Lane, London EC1N 7TE
Don't forget to check out Shaman, too – our very own coffee shop on the doorstep of Leman Locke. And when you've had your fill of coffee? Head for brunch or dinner at one of our favourite healthy eating spots in the Capital. Or order a takeaway to your apartment. Up to you.