Get to know Kraft Dalston - our restaurant partner at Kingsland Locke, Dalston. And get the cocktail glasses prepped - because distillery parter Jim and Tonic have shared three gin cocktail recipes for you to recreate from the comfort of your kitchen.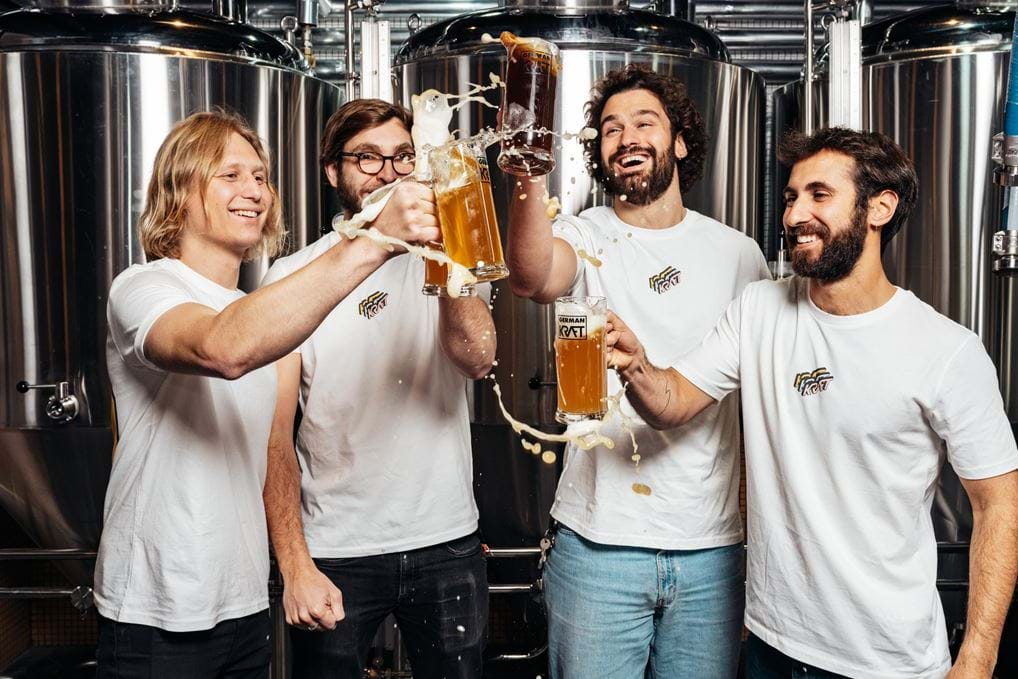 This is our first venture outside Mercato Metropolitano, so we were excited to work with Red Deer and Locke on the design concept.
At Kraft Dalston, you'll find a modern interpretation of a 'tank bar', fully kitted out with carefully selected wines, spirits and a custom cocktail menu, while downstairs you'll find the 500l Brewhouse, Jim and Tonic gin distillery and Seoul in a Bottle restaurant, which will be serving up Korean cuisine overlooking the brewery.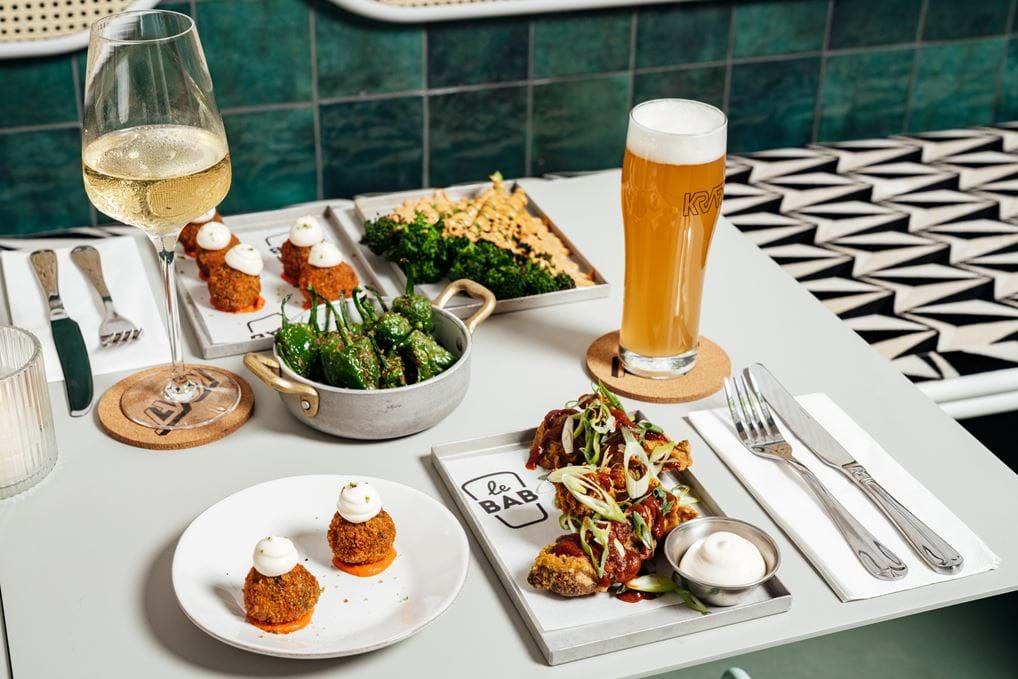 Having launched German Kraft back in 2016 to provide affordable, drinkable beer to Londoners fresh from the tank to the glass, Felix is most excited about bringing their sustainability message to Kraft Dalston. "Because we brew and distill everything on site and don't package or transport our drinks, we save an average of 75 percent of our CO2 output compared to other breweries and distilleries," he explains.
"2020 was a hard year for us, especially as we don't package any of our products and so had to rely on our guests to come to our locations to enjoy our beer. Kraft Dalston opened for five days before the UK went into the tiered lockdown, but we're excited to open up properly. Everything is ready to go!"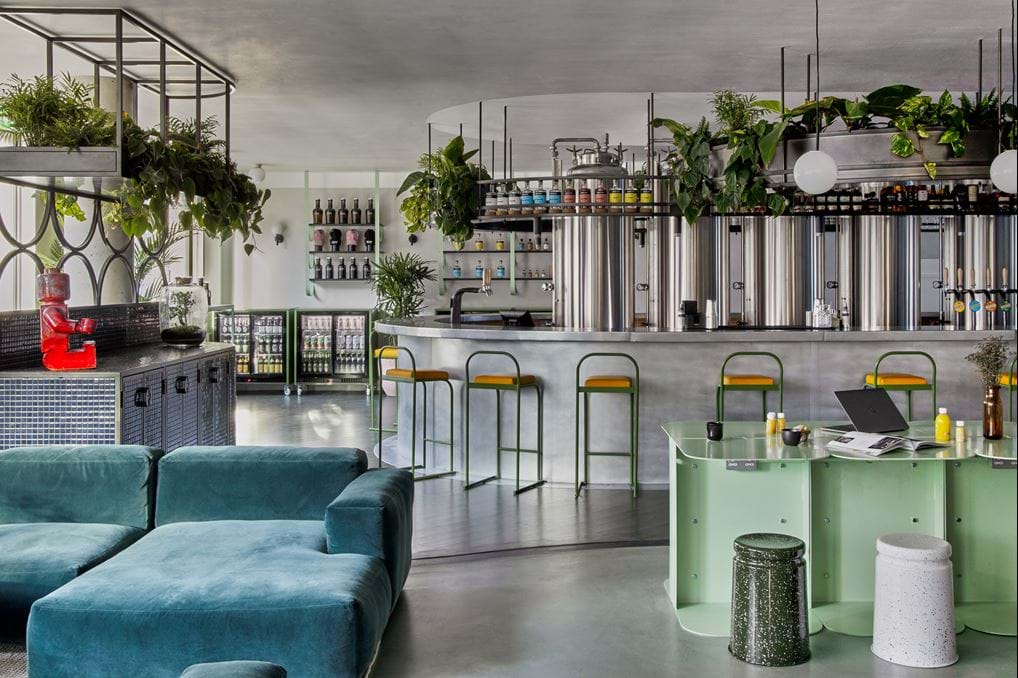 Until that moment arrives, we've asked the team at Jim and Tonic to share a few of their favourite recipes for gin cocktails that you can make at home to break up your lockdown. They're also doing live cocktail-making masterclasses on 12 and 13 February, which is a quarantine hobby that we can definitely get behind...


Pink French 75
Perfect for: celebrations, which in lockdown we're extending to include not just birthdays but also rearranging the furniture for the 14th time, remembering to feed the cat, and confidently turning down your invitation to the Friday night team-building Zoom quiz. Cheers to that!
Ingredients (serves 1):
40ml Jim and Tonic ROOBEE rhubarb gin
25ml freshly squeezed lemon juice
20ml sugar syrup
Prosecco
Optional: lemon, mint and lavender to garnish
Method:
1. Fetch your most elegant long glass (the one you serve the good stuff in). Pre-chill by filling with ice or running under some cold water before drying.
2. Add your ROOBEE rhubarb gin, sugar syrup, fresh lemon juice and lots of ice to your cocktail shaker.
3. Shake it like a polaroid picture.
4. Add some fresh ice to your chilled glass and double-strain the liquid from the shaker until the glass is half-full, then top up the rest with prosecco.
5. Decorate with a long peel of lemon, a sprig of fresh mint and, if you're really feeling fancy, a piece of dried lavender. Clink glasses (with the mirror if need be) and toast to your mixology prowess.
Creamy and Classic Gin Sour
Perfect for: weekend brunch, when you've already used eggs every other way and want a legitimate excuse to drink before 1pm (no judgement here).
Ingredients (serves 1):
50ml Jim and Tonic LONDON dry gin
25ml freshly squeezed lemon juice
15ml sugar syrup
Egg white (vegan alternative: chickpea brine)
Lemon to garnish
Method:
Fill your glass to the brim with ice and leave it to chill out while you do your prep.
Add the LONDON dry gin, lemon juice and sugar syrup to your cocktail shaker.
Carefully crack your egg over the shaker, being careful not to let the yolk fall in. If you're vegan, add your chickpea brine at this point.
Give everything a dry shake (i.e. no ice!) to break up the egg white, before adding ice to the shaker.
Get your daily lockdown workout by giving everything another long, enthusiastic shake – we suggest around 60 seconds or the time it takes to sing happy birthday twice (or not).
Get rid of the ice from your glass and then double-strain the liquid from the shaker into it,
Pop a twist of lemon on top and place proudly next to your eggs benny.
Bees Knees
Perfect for: reminding yourself that spring WILL be here soon and/or pretending that you're drinking on an Italian hillside while linen flaps in the breeze, a church bell chimes softly in the distance and a ruggedly handsome farmer pours you another. Sigh.
Ingredients (serves 1):
50ml Jim and Tonic KRAFT hopped grapefruit gin
15ml floral honey
25ml fresh lemon juice
Lemon to garnish
Method:
Add your KRAFT hopped grapefruit gin and honey to your cocktail shaker.
Give everything a stir so that the honey dissolves, before adding the lemon juice.
Fill to the brim with ice cubes before giving everything a good shake – think loud enough to drown out the sound of the evening news.
Double-strain the liquid into your glass.
Finish by peeling a long strip of lemon, squeezing it over your drink to release citrus oils, inhale and imagine you're on holiday, and place into the glass to garnish.
More about KRAFT Dalston
Next time you're in London, visit Kingsland Locke and try one of KRAFT Dalston's famous cocktails for yourself.
View KRAFT Dalston on Instagram.
More about Jim and Tonic
Jim and Tonic's independent gins use pioneering techniques to reduce waste, reuse resources and regenerate their surroundings. They have micro-distilleries and gin bars across London (including Kingsland Locke).